EPISODE I: THE PHANTOM MENACE

Attire:
Flight Helmet
Goggles
High Collar Tunic
Flight Jacket
Overcoat
Safety Harness
Leather Gloves
Leather Boots
---
THE HELMET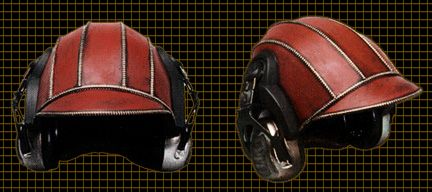 The Naboo Flying Helmet had it's humble beginnings as an ERB 'Maverick' safety cap manufactured by ERB Safety of Woodstock, GA. The safety cap is made of high density polyethylene which is not easily reformed. Most likely a single helmet was very heavily modified and then used to make a vacuform mold. The final prop helmets would then be constructed of polystyrene.
Decorative ridged piping was applied along the grooves of the helmet. Two side pieces, most likely custom sculpted and also vacuformed, were added around the headphones. The headphones are 3M model 1450 hard hat mounted ear muffs, as seen fitted onto the Maverick helmet in the photo below. The blue plastic shells of the ear muffs were chromed or vacu-metallized. Detail pieces were added to these blue pieces, possibly before the metallic finish, though it's difficult to tell because of the weathered paint job.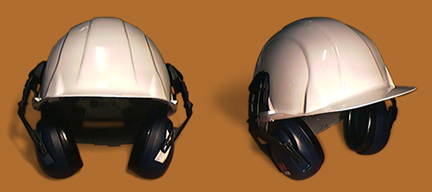 ERB 'Maverick' Safety Helmet with 3M 1450 ear muffs.
---
THE GOGGLES
The goggles are based on those once used by the British Royal Air Force. The closest model we've found so far is the Mark 8 currently made by Halcyon. This model has brown leather padding and straps like those in the movie, but the metal frames have a blue-green finish unlike the film versions which seem to be brownish or possibly gun metal.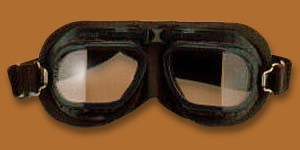 British Mark 8 RAF Goggles Made by Halcyon
---
THE BOOTS
The Naboo pilots wear the same style boots as the Naboo Palace Guard. We suspect they are either motorcycle or equestrian boots, but have yet to identify them.
---
Item

Approx. Price

Available From

ERB 'Maverick' Safety Helmet

$5.00
ERB Industries
3M 1450 Ear Muffs
$25.00
Grainger (# 5F826)
British Mark 8 RAF Goggles Made by Halcyon
$80.00
Classic Goggles
Side-Release Buckle for 2" Straps
$2.00
REI
Click on blinking indicator to left to find out about other supplies.