EPISODE I: THE PHANTOM MENACE
Used by: Naboo Civilians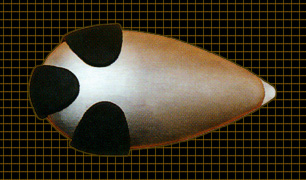 ---

Although not a major prop from the film (actually we have not been able to find it anywhere in the film yet) it does appear in the Episode I Visual Dictionary. As it is a fairly easy prop to deal with we thought you might like to know what it is. Here goes....
The Naboo Civilian Comlink is simply an iSi basics Odor Steeler, item #8580, a common stainless steel kitchen hand deodorizer for use after cutting onions, fish, garlic, etc. The black portion is a plastic holder for wall mounting near your kitchen sink. In the photo at the top of the page the Odor Steeler is simply turned around in the mount so as to hide the graphics and text on its surface.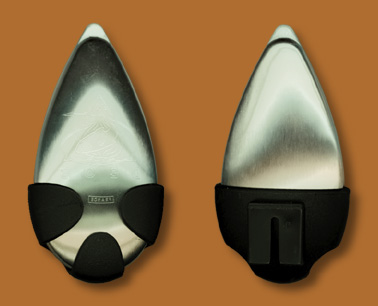 iSi basics Odor Steeler
Item

Approx. Price

Available From

iSi basics Odor Steeler
$10.00
Lechters, Bed, Bath & Beyond
Click on blinking indicator to left to find out about other supplies.