EPISODE I: THE PHANTOM MENACE
Used by: The Pizza Hut Girl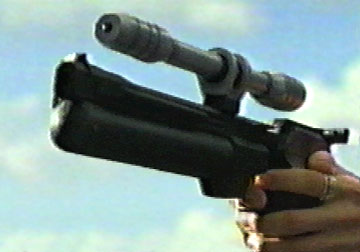 ---

Although this blaster prop was used in the film, it is most easily seen on television. The Pizza Hut girl uses this to blast away battle droids in the commercials for the TriCon restaurants (KFC, Pizza Hut, Taco Bell).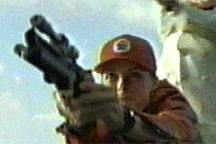 The Pizza Hut Girl
This prop was made from a Walther LP 200 Power Air compressed air pistol.
It is a 4.5mm caliber airgun with walnut grips.
Length - 398 mm
Width - 50 mm
Height - 140 mm
Weight - 1110 grams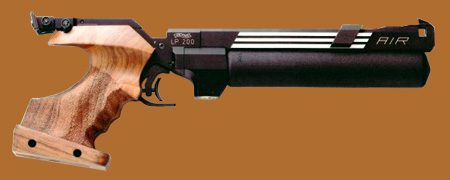 Walther LP 200 Air Gun
The scopes and other additions appear to be of similar make as the Naboo Blaster I. Please refer to that page or other Episode I gun pages for more info.
Item
Approx. Price
Available From
Walther LP 200 Air Gun
$1300.00
Champion's Choice
PHONE: (615) 793-4066
Covertec Belt Clip
£2.80 (in quantities of 5)
Exportech - swbeltclip.com
Click on blinking indicator to left to find out about other supplies.