EPISODE I: THE PHANTOM MENACE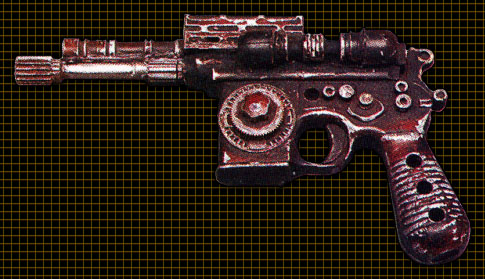 ---

The town of Mos Espa can get pretty rough, sometimes a situation arises when a being needs to defend itself. In the sweltering heat, this blaster will do the job. We found one humanoid wandering the streets of Mos Espa with it tucked away in his belt. Hasbro made this blaster into a toy, giving it the generic name 'Tatooine Blaster'.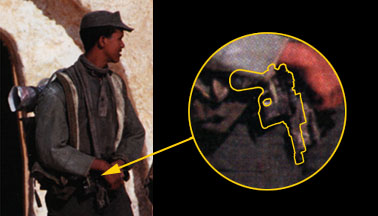 This prop was made from a highly modified casting of a gun familiar to Star Wars prop enthusiasts everywhere, a German Mauser pistol. However, the version cast in resin for this gun is different from that used by everyone's favorite smuggler, Han Solo. This model Mauser is a newer version, but still an antique. It's a model M712 Schnellfever pistole ('rapid-fire pistol'), produced by Mauser in 1931. This pistol differs from previous models with it's addition of a selective fire switch. The switch, located on the side of the gun, slides from the 'N' position (normal) to 'R' for rapid-fire. It also features a detachable 20 round magazine (seen in the photo below).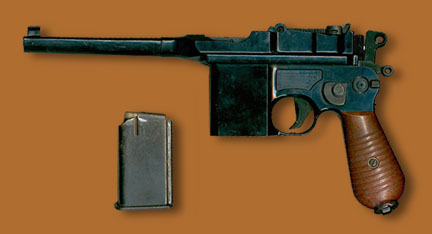 Statistics of the real gun:
7.63 mm
Length: 11.34 inches / 288 mm
Weight: 45.3 oz / 1,285 gram
Maker: Mauser-Werke AG, Oberndorf
We currently do not know what parts were added to the resin casting of the gun, but 3 holes were drilled into the handgrip. The center hole is where the grip screw was located.