EPISODE I: THE PHANTOM MENACE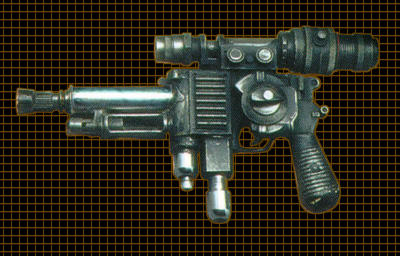 ---

This unusual blaster pistol is carried by some being wandering the desert planet, but we have yet to find it's owner. It first appeared on a card from Decipher's Young Jedi card game.
This prop was made from a highly modified casting of a gun familiar to Star Wars prop enthusiasts everywhere, a German Mauser pistol. However, the version cast in resin for this gun is different from that used by everyone's favorite smuggler, Han Solo. This model Mauser is a newer version, but still an antique. It's a model M712 Schnellfever pistole ('rapid-fire pistol'), produced by Mauser in 1931. This pistol differs from previous models with it's addition of a selective fire switch. The switch, located on the side of the gun, slides from the 'N' position (normal) to 'R' for rapid-fire. It also features a detachable 20 round magazine (seen in the photo below).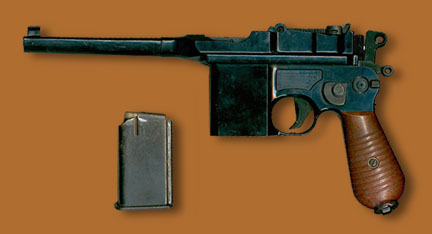 Statistics of the real gun:
7.63 mm
Length: 11.34 inches / 288 mm
Weight: 45.3 oz / 1,285 gram
Maker: Mauser-Werke AG, Oberndorf
The numerous parts added to the resin casting are yet to be identified.