EPISODE V: THE EMPIRE STRIKES BACK
Used by: Cloud City Security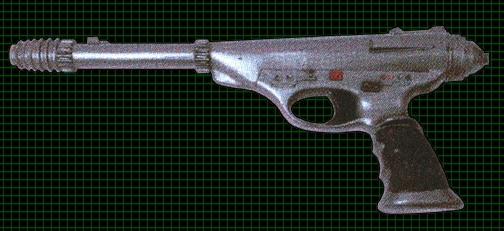 ---
Han Solo was pistol whipped with one.
Darth Vader's Stormtroopers surrendered to them.
They're sleek, stylish and silver...
It's the Relby-k23. When you absolutely, positively have to protect every citizen in a city among the clouds - accept no substitute.
The basis for this blaster is actually a weapon favored by scuba divers rather than security guards. This air-powered spearfishing gun is the 'Galeon' model made by the Spanish company Nemrod.



Nemrod Galeon Speargun
Made in Spain
32.25 inches long with spear
The barrel was either cut down or completely replaced with a tube of the same diameter. Two gear-like pieces were added around the barrel or caped off either end of the added tube. The new muzzle is yet unidentified.
Various bits detail the sides of the gun, but only one is known so far. On the left side above the trigger is a piece from the Revell Visible V-8 model kit. This rectangular part is #98 from the battery box of the original motorized version of the kit. The word "Coil" is oriented toward the front of the gun.


Part #98 of the Revell Visible V-8 Engine
The entire back half of the speargun was removed so found parts were used to cap off the end. Another V-8 kit part, the rear half of the fan pulley, forms the majority of the rear cap. Protruding from the center of the cap is a threaded rod.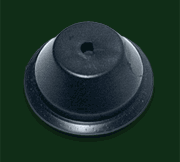 Part #104 (Fan Pulley, Rear Half) from the Revell Visible V-8 Engine

The final props were most likely all resin castings of a master prop. They were painted silver with dark 'gunship' gray grips and trigger. The minor details were painted as follows:
Right Side: Three circles within long detail piece - gunship gray, hole in other detail piece - red
Left side: Rectangle above trigger - red, 'S' on saftey button - gunship gray, rear detail piece: dot 1 - red, dot 2 - orange, dot 4 - gunship gray (3rd dot is unpainted)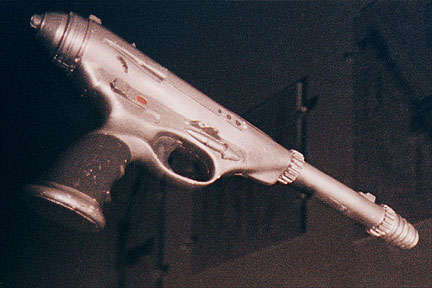 The Cloud City blaster prop on display at the 1995 'The Art of Star Wars' exhibit, San Francisco, CA.
Photo: Adam Winkel