EPISODE IV: A NEW HOPE
Used by: Han Solo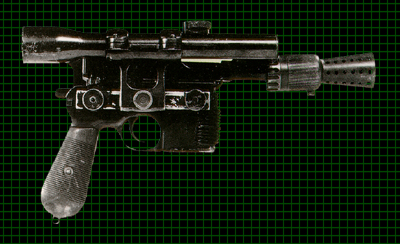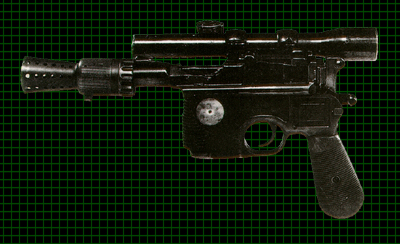 ---

This famous sidearm of everyone's favorite rogue was of course a modified "Broomhandle" Mauser. This particular gun was not the standard model however. The British prop house that built all of the A New Hope blasters and lightsabers reused one of their previous creations in the making of this prop. The gun was originally used by Frank Sinatra in the 1966 movie "The Naked Runner". In the movie Sinatra plays a former WWII sharpshooter who gets caught up in an intricate plot devised by British spies. He is armed with a Mauser sniper rifle that breaks down to fit in a briefcase. A long barrel was threaded to fit inside the short barrel of the Mauser body. This barrel, the scope, and stock were all discarded. The Mauser had a scope mounting bracket bolted to the left side of the gun so the lower body was replaced with that of another Mauser.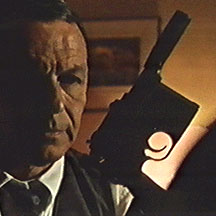 Frank Sinatra examines his new Mauser in "The Naked Runner".
To see more images of his gun from the movie scroll to the bottom of this page.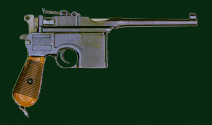 Standard 1896 German "Broomhandle" Mauser
Mounted on the end of the barrel is an MG 81 machine gun flash hider. It was held in place by a socket head cap screw on the underside.
The blaster's scope is a WWI era German sniper scope manufactured by Hensoldt Wetzlar, model Dialyt 3x. A German "claw" type mounting bracket attached the scope to the gun, make and model unknown.


Hensoldt Wetzlar Dialyt 3x
Photo: Jim Sanderson


Click here for more images of the prop from The Naked Runner
Item
Approx. Price
Available From
Replica Mauser (item# 22-1226)
$89.00
Collectors Armoury
(877) 276-6879
Click on blinking indicator to left to find out about other supplies.