EPISODE IV: A NEW HOPE (Special Edition)
EPISODE V: THE EMPIRE STRIKES BACK
Used by:
Hoth Rebel Trooper
Luke Skywalker
Han Solo
Sandtrooper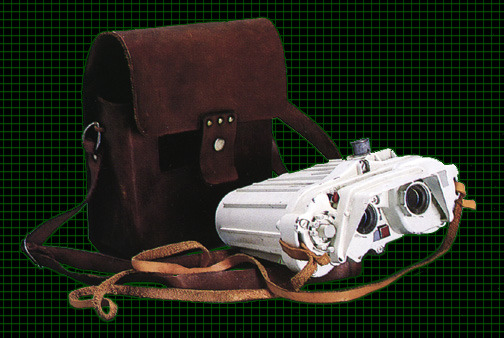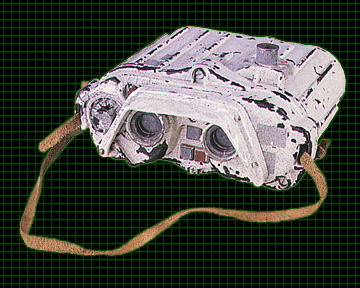 ---

The electrobinoculars were based on laser rangefinders in use at the time of filming by the Norwegian Army, the same guys who played the Hoth Rebel Troopers. The exact model is believed to be the Simrad Optronics LP7. Pictured below is a slightly newer model, the LE-7. The only confirmed difference is that the LE-7 uses an "eyesafe" laser.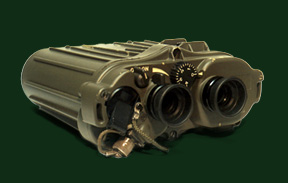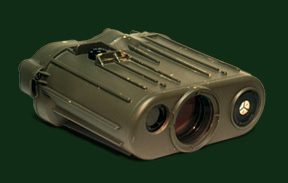 Simrad LE7 Eyesafe Laser Rangefinder
There were a several minor modifications made to the LP7's. The battery compartment cover was removed along with the cord that anchors it to the unit. The center adjustment knob was replaced with a round hemisphere. The on/off switch was also discarded and replaced with a small piece of the camshaft from the Revell Visible V-8 model kit. Another section of the camshaft was used to support the front left corner of the added visor.


Part #40 (Camshaft) from the Revell Visible V-8 Engine
Several pieces were used to detail and fill in the empty hole of the battery compartment including six push rods around the circumference.
(Note: At least one of the Electrobinocular props used thin metal tubes instead of the V-8 push rods.)


Part #75 (Push Rod) from the Revell Visible V-8 Engine
Three square buttons were added between the main viewing lenses (two gray, one red). Modifications to the other end include more parts from Revell Visible V-8 model kit over the smaller lens/sensor to the right of center. Part numbers #100 (water pump impeller) and #107 (front half of the vibration damper pulley) were stacked on top of one another.

+

=

Revell Visible V-8 Engine Part #100 added to Part #107 combined to form the front detail



Click here for more images of the original.