EPISODE VI: RETURN OF THE JEDI

Attire:
Camoflage Duster
Black Vest
White Shirt
Brown Pants with Yellow Corellian Blood Stripe
Black Belt
Gun Belt with Holster
Black Boots

Accessories:
Droid Caller

Weapons:
BlasTech DL-44 Heavy Blaster Pistol

---
THE BOOTS: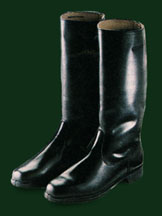 Like many characters in Star Wars, Han wears black riding boots with the smooth dress finish.
Shown above are East German military riding boots, however Han's boots fit tighter and were taller. Most likely they were commercially made equestrian boots.
---
THE DUSTER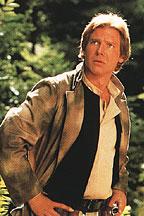 Han's long duster is remenicent of those worn by cowboys in the old west. It was actually a white doctor's lab coat dyed in shades of brown for camoflage in the redwood forest.
---
THE BELT
A standard military issue black belt with three sets of holes running the length of the belt.
---
THE GUNBELT
The leather gunbelt with holster appears to be entirely custom made.
There are at least three small items inside the pouches of Han's gunbelt. None of these have been identified. Below is a closeup of the tops of the items in the belt.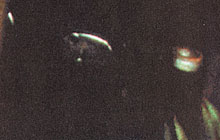 The part at top left is only seen as a white highlight in the photo but it may be the same piece seen in the center. Both are shiny metal and possibly chrome. The third part is some type of silver cylinder with a reddish orange top edge and a metal dome in the center.
---
DROID CALLER:

---
WEAPON:
BlasTech DL-44 Heavy Blaster Pistol