EPISODE V: THE EMPIRE STRIKES BACK

Attire:

Accessories:

Weapon:
BlasTech E-11 Blaster Rifle

---
THE BOOTS
The Snowtroopers wear modified Canadian military Mucklucks. Three white straps were added around the upper section and attached with a single rivet each along the back spine of the boot. Velcro fastened them in the front.
Some of the Snowtrooper boots were missing the laces and six loops on the lower section.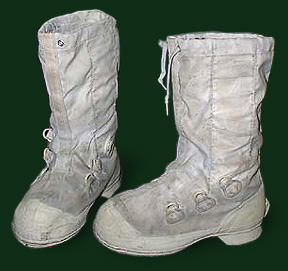 Canadian Mucklucks
(Note: lower laces missing)
Photo: Dallas Poague
The Snowtrooper Commander seen in the cockpit of the AT-AT wears a pair of white "moon boots", a popular style of winter boot from the 80's.
---
WEAPONS
BlasTech E-11 Blaster Rifle
Item

Approx. Price

Available From

Canadian Mucklucks
$49.95 Canadian ($33.74 USD)
http://accel.net/army/boots.html
Click on blinking indicator to left to find out about other supplies.