EPISODE I: THE PHANTOM MENACE

Attire:
Tunic
Pants
Cloak
Wide leather belt
Leather boots

Weapon:
Double-bladed lightsaber

Accessories:
Electrobinoculars
Wrist link
---
THE MAKEUP
Makeup artist Paul Engelen applied the red and black visage of Darth Maul. The red makeup was a water-base "flame" red Aquacolor applied with a sponge (which could be easily reapplied for touch-ups on set). The black was Reel tattoo color painted on with the aid of a template made from initial makeup tests. The template consisted of cellophane covered with cellotape and was designed from Ian McCaig's conceptual art. On the back of the head, Reel tattoo black makeup was generously applied with a fairly heavily saturated alcohol-based sponge.
Reel Tattoo makeup is manufactured by:
Reel Creations Inc.
7831 Alabama Ave. Unit 21
Canoga Park, CA 91304
818-348-2997 Fax 818-992-5337
The contact lenses were made by Richard Glass of London.
Darth Maul wears a silver stud earring high on his left ear. This was Ray Park's own earring.
---
THE COSTUME
Darth Maul's attire was custom made by costume designer Trisha Biggar and her team. It was sewn from a hand woven fabric called Indian Homespun dyed black. The same material was used for the Jedi tunics.
On the right side of his black leather belt is a Covertec belt clip to hold his double-bladed lightsaber. These belt clips are produced by Covertec and used on their palm top computer carrying cases.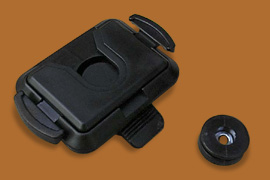 Covertec Belt Clip
---
THE BOOTS
Darth Maul wears Frank Thomas black leather motorcycle boots. They are the Titan Touring boots Gore 101 and were produced in Italy until 1997. The "Gore" in the style name stands for the all weather material Gore-Tex. The white triangular "Frank Thomas Gore-Tex" patch on the back of each boot was removed. Small brass "Gore-Tex" plates on the sides of the boots were left intact but painted over in black. The "double V" Frank Thomas logo is prominently embossed on the front of each boot.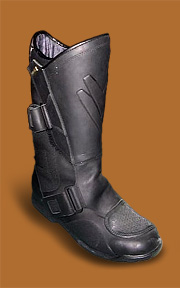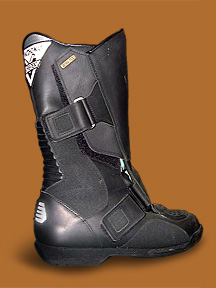 Titan Touring Boots Gore 101
Photos: Murat Eravci


The Frank Thomas Official Website
---
WEAPON:

Double-bladed lightsaber
---
Item
Approx. Price
Available From
Covertec Belt Clip
£2.80 (in quantities of 5)
Exportech - swbeltclip.com
Click on blinking indicator to left to find out about other supplies.