EPISODE I: THE PHANTOM MENACE
Used by: Obi-Wan Kenobi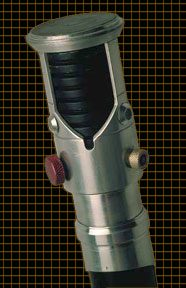 click on image to enlarge
---

The brash Obi-Wan Kenobi wielded this lightsaber before it was lost in a duel with Darth Maul.
This lightsaber was likely custom machined from aluminum and assembled onto a 3/8" diameter steel rod. The black parts of the prop are plastic or resin.
The emitter head of this lightsaber prop was probably made from a radial bearing retention or retainer ring, used around the collar of bike handlebars. An exact matching bearing has not yet been found. Inset in the top is a 1 1/2" fender washer. Around the head of Obi-Wan's lightsaber are three chrome metal LED bezels (1 cm diameter). The clear 5 mm LED's in the center were filed flush to the rim of the bezel.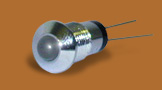 5 mm LED with 1 cm Diameter Chrome Bezel
A red anodized aluminum thumbscrew was used as an activator button, manufacturer unknown.
The gold button on the prop is a brass valve adapter. These are commonly used on bicycle tires. Each manufacturer's adapter differs slightly in shape and the cross-knurling on the side. A tiny metallic purple hemispherical piece was used to plug the interior hole. (This purple hole plug was also used on Mace Windu's onscreen version lightsaber)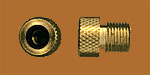 Bike Tire Valve Adaptor
Capping the very end of the saber at the far left of the image above is a 1" Elliptical Vessel Head (VHE-32) available from Plastruct.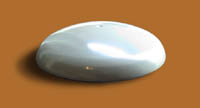 Elliptical Vessel Head
The round black piece on the handle is half of a system for attaching the saber to the Jedi's belt. The other half is a clip worn on the belt that the "knob" on the prop slides into with a simple downward action. By design, the prop remains free to pivot within the clip and is released simply by pressing the two arms on either side of the clip.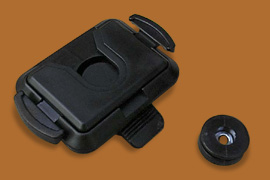 Covertec Belt Clip
These clips are made by Covertec a European manufacturer of protective cases for PDAs, HPCs, mini-notebooks and cellular phones.
Item
Approx. Price
Available From
Covertec Belt Clip
£2.80 (in quantities of 5)
Exportech - swbeltclip.com
1" Elliptical Vessel Heads (VHE-32)
$.51
Plastruct
Phone: 800-666-7015
8 am - 3 pm PST

Bike Tire Valve Adaptor

$1.00
Bicycle Supply Shops
Click on blinking indicator to left to find out about other supplies.