EPISODE I: THE PHANTOM MENACE
Used by: Mace Windu




---

At the celebration of the Trade Federation's defeat on Naboo, this lightsaber hangs from the belt of Jedi Council senior member Mace Windu.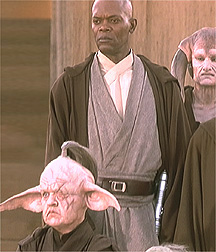 Like most of the lightsabers, this one is constructed of a resin casting of a custom machined shaft, painted silver and assembled onto a 3/8" diameter steel rod. Each end of the prop was finished with metal found objects.
The emitter head of this lightsaber prop was probably made from six stacked radial bearing retention or retainer rings, used around the collar of bike handlebars. An exact matching bearing has not yet been found. A fender washer (1 1/2" diameter) was inset in the top ring. The last ring before the main shaft of the lightsaber is cast resin and painted silver (a chip is visible in the part in the top photo).
Three rubber o-rings were used along the shaft, two below the emitter head and one near the bottom.
A set of controls near the top of the lightsaber consists of a pair of diamond knurled knobs and two 5 mm LED's with chrome metal bezels (1 cm diameter).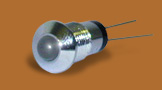 5 mm LED with 1 cm Diameter Chrome Bezel
Two metal knobs near the saber's end are capped with tiny metallic purple hemispherical pieces. (A purple hole plug was also used on Obi-Wan Kenobi's lightsaber)
The chrome metal part at the bottom has not yet been identified, though it does have two rubber o-rings around it.
The round black piece on the handle is half of a system for attaching the saber to the Jedi's belt. The other half is a clip worn on the belt that the "knob" on the prop slides into with a simple downward action. By design, the prop remains free to pivot within the clip and is released simply by pressing the two arms on either side of the clip.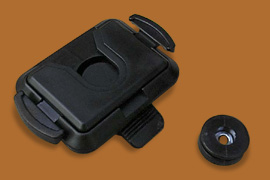 Covertec Belt Clip
These clips are made by Covertec a European manufacturer of protective cases for PDAs, HPCs, mini-notebooks and cellular phones.
Item
Approx. Price
Available From
Covertec Belt Clip
£2.80 (in quantities of 5)
Exportech - swbeltclip.com
Click on blinking indicator to left to find out about other supplies.