EPISODE I: THE PHANTOM MENACE

Attire:
Helmet
Leather Uniform
Leather Gloves

Weapon:
Security S-5 Blaster
Battle Droid Blaster
---
THE HELMET
The helmet appears to be custom made, more info may be available as details of the film are released.
---
THE BELT
The belt buckle is a standard black plastic side-release buckle for 2" wide straps. Almost identical models are commonly available from REI stores which sell outdoor recreation equipment. The buckle was decorated with a gold Naboo Security Crest.

Clips are worn on the belt that a "knob" on miscellaneous props slide into such as the Security S-5 Blaster. By design, the props remain free to pivot within the clips and are released simply by pressing the two arms on either side of the clip. These clips are from Covertec a European manufacturer of protective cases for PDAs, HPCs, mini-notebooks and cellular phones as can be seen in the photos below.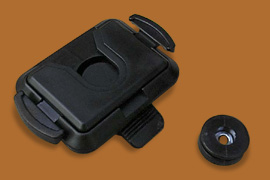 Covertec Belt Clip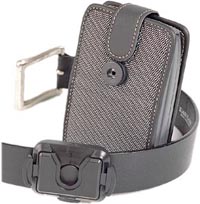 Covertec Cobra PDA Case and Clip
---
WEAPONS:

Security S-5 Blaster

Battle Droid Blaster
Item

Approx. Price

Available From

Covertec Belt Clip
$8.00
Covertec, Ordering Information
Side-Release Buckle for 2" Straps
$2.00
REI
Click on blinking indicator to left to find out about other supplies.