EPISODE VI: RETURN OF THE JEDI
Used by: Han Solo (worn on his belt)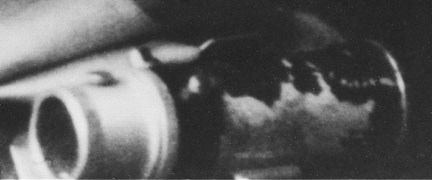 ---

As with the previous two movies this droid caller was made from an old Kobold camera flash. There were many flash variations made by Kobold which were used throughout the classic trilogy. The one used for Han's droid caller from Return of the Jedi has a stepped transition on the top section and the bottom has a knurled edge. This is the same Kobold style used for Han's ESB droid caller but they are not the same prop. The flash reflector mounting bracket is missing, presumably it was removed to be used as a D-ring bracket for a Luke ESB lightsaber. Unlike the other droid caller props this one has the plastic test bulb cover intact (seen to the right of the reflector bracket). The middle section of the flash was painted black.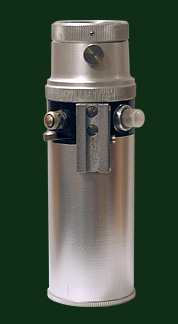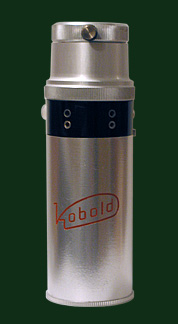 Kobold Flash Attachment
This is the variation used for this prop.

---
A Second ROTJ Droid Caller?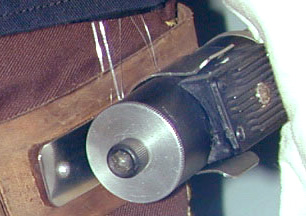 Photo: Chris King
The Art of Star Wars
There is a second droid caller currently owned by Lucasfilm that may have also been used in Return of the Jedi. This prop was seen at the Art of Star Wars exhibit attached to Han's ROTJ belt. A Kobold flashgun was also used for this version but reference on this prop is very scarce so the exact flash variation is unknown. It appears to have a black textured paint finish and could possibly be what remains of the original Han Solo A New Hope droid caller. The flash reflector mounting bracket was removed (presumably to be used as a D-ring bracket for a Luke ESB lightsaber). The large black part in it's place is unidentified. Screwed into the mount hole in the bottom of the flash is a 3/8" - 16x socket cap screw.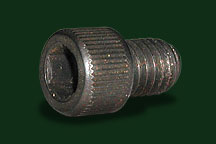 3/8" - 16x Socket Cap Screw