EPISODE VI: RETURN OF THE JEDI
Used by:
Gamorrean Guard
Klaatu Guard




Click here to enlarge this image.
---

As the dark figure entered the palace, the pair of guards crossed their weapons to bar his progress. The figure raised it's hand and dispelled the guards with an invisible Force. One guard carried this weapon, but it was no match for a Jedi knight.
The Gamorrean guard vibro-lance was assembled onto a what is probably a length of 1 inch outside diameter PVC plumbing pipe. Though reference on this weapon is limited we know at least a few of it's components. Starting from the top, the parts are as follows.
The tip of the staff may be the same as that used on the Vibro-Axe though we can't be certain. If it is the same piece, it's is a heavily modified chrome shower head. The nozzle itself was not used. The piece that held the nozzle is the very tip of the prop and below it is the section that screwed onto a water pipe. When screwed together the two pieces made the Vibro-Axe tip which is very similar to a hose adaptor like the one seen below.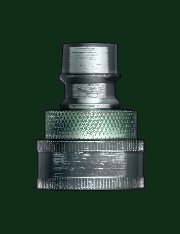 Hose Adaptor
(Similar to the shower head used)
Photo: Mat Clayson
The two blades of the weapon were likely custom made from Rehn Shape, a dense polyurethane foam.
Below the blade assembly is a part from a Tupperware Pop-A-Lot toy. Shown in the photo below, a ball would be caught in the yellow cone and then launched by air released by hitting the red plunger at the bottom. The red plunger was removed and mounted on the vibro-lance pole upside down.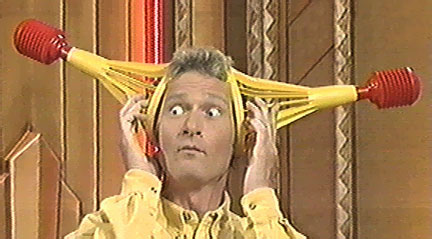 Comedian Ryan Stiles impersonates Princess Leia with two Pop-A-Lot toys on his head.
From the TV show "Who's Line is it Anyway?"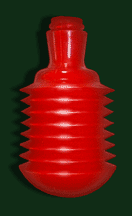 The grip section below this piece appears to be wrapped wire. Lower down before the next major part, thicker wrapped wire was probably used.
The bulbous part at the bottom of the vibro-lance is an attachment for a garden hose called a Soft-Flo Soaker. It was the model 5330C, manufactured by Melnor Industries Inc. Originally used to soften the flow of water from the hose when watering, there is a white or yellow filter seen inside through the slits in the bright green plastic.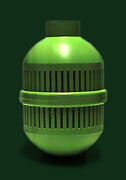 Melnor "Soft-Flo Soaker" Model 5330C
The end of the lance looks like it may be a plastic baseball bat handle.
A Klaatu guard that drags Luke out of the Rancor pit (after the creature's untimely demise) also carries the Vibro-lance.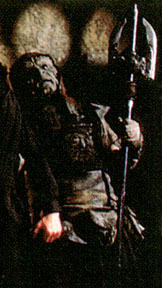 The Klaatu Guard