EPISODE I: THE PHANTOM MENACE

Attire:
Leather/Wool Cap
Leather Jerkin
Body Armor
Leather Gloves
Leather Boots

Weapon:
Security S-5 Blaster
CR-2 Heavy Blaster
Battle Droid Blaster

Accessories:
---
THE UNIFORM
The entire uniform seems to have been custom made by costume designer Trisha Biggar and her staff.
---
THE BELT
The belt buckle is a standard black plastic side-release buckle for 2" wide straps. Almost identical models are commonly available from REI stores which sell outdoor recreation equipment. The buckle was decorated with a gold Naboo Security Crest.

Clips are worn on the belt that a "knob" on miscellaneous props slide into such as the Naboo Detonators worn by the Naboo Security Guards. By design, the props remain free to pivot within the clips and are released simply by pressing the two arms on either side of the clip. These clips are from Covertec a European manufacturer of protective cases for PDAs, HPCs, mini-notebooks and cellular phones as can be seen in the photos below.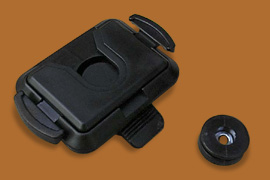 Covertec Belt Clip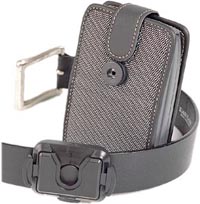 Covertec Cobra PDA Case and Clip
---
WEAPONS:

Security S-5 Blaster

CR-2 Heavy Blaster

Battle Droid Blaster
Item

Approx. Price

Available From

Covertec Belt Clip
$8.00
Covertec, Ordering Information
Side-Release Buckle for 2" Straps
$2.00
REI
Click on blinking indicator to left to find out about other supplies.