EPISODE IV: A NEW HOPE
EPISODE VI: RETURN OF THE JEDI

Attire:
Brown Robe
Dark Brown Gloves
Bandoliers

Accessories:
MicroWelder

Weapons:
Jawa Ion Gun
Jawa Blaster
---
THE GLOVES
Jawas wear brown jersey gloves. These are common work gloves made of cotton.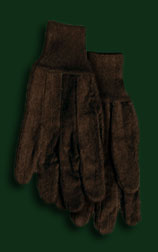 ---
THE BANDOLIERS
The bandolier worn by the Jawa on the right is a British Pattern 1903 Leather Bandolier.
It is made of brown leather with five 10-round pockets in the front. There are brass buckles for regulating the size and a strap for securing the lower end of the bandolier to the waistbelt (this strap was removed). This design of bandolier was made for only five years (1903-1908) though it saw many years of service after that. It was modified by cutting two approximately 1 1/2" slits in each of the pouches to create a band to tuck the flaps into. This would keep the ends of the flaps down, since they tend to curl up.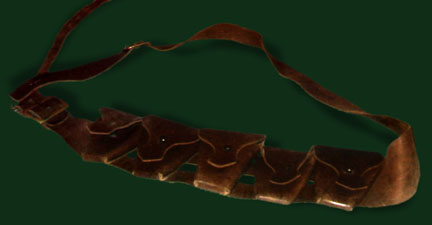 ---
THE POUCHES
The left Jawa in the top photo has a German 3-pocket ammo pouch attached to his holster sling. These pouches were used during WWII to hold ammunition for the Mauser 98K rifle.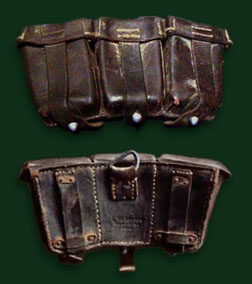 Mauser 98K Rifle Ammo Pouches
The Jawa on the right has this leather pouch attached to his gunbelt next to the holster. It is a WW1 British two magazine pouch for Colt 1911a mags. It has two separate slots for the magazines and closes by fastening a strap that comes from below to a brass stud on the top flap. It has a rear belt loop and is 3.5" x 5.25" in size.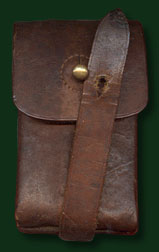 Colt 1911a Magazine Ammo Pouch
---
ACCESSORIES:
MicroWelder

---
WEAPONS:
Jawa Ion Gun

---